FEATURED CUSTOMER PHOTOS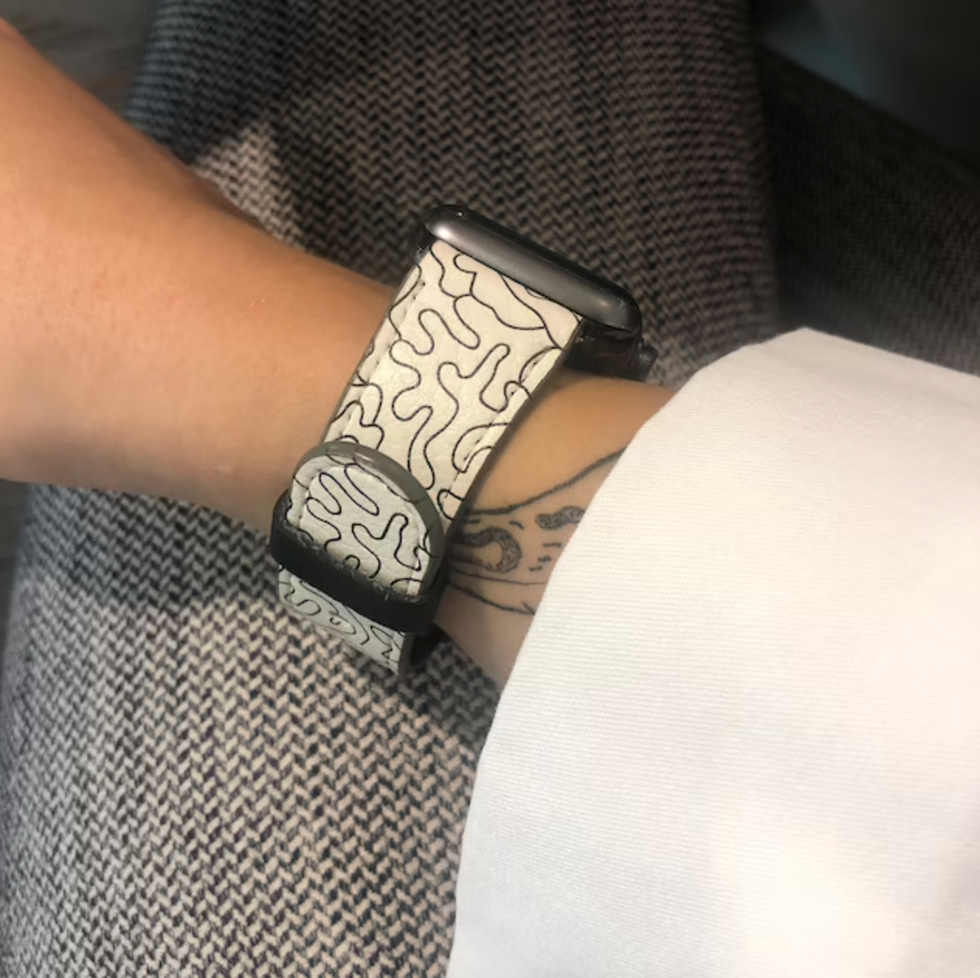 SHIPPING + HANDLING
In an effort to be as sustainable as possible, all of our items are made to order. Most orders are ready to ship in as little as 1-3 business days, but we ask that you always allow up to 7 just to be safe — especially around the holidays :)
FREQUENTLY ASKED
What is "vegan" leather?
Vegan leather is a high-quality, cruelty free "faux" alternative to leather! To learn more, click here!
Will your bands fit my wrist?
Our bands are super versatile and should fit almost any wrist - even the tiny ones! We would say they are best fit for wrists ranging from ~14-20cm.
Do you sell bands for any other smart watches?
At this time, the only other watch we are able to make bands for are the G3 Series watches.
Will the band loosen over time?
Yes! When you receive your band, it may feel noticeably "stiff" at first (it is brand new, of course!) but will certainly loosen and form to your wrist over time with continued wear!
Can I change the color of the loop that holds the band down?
Unfortunately, changing the color of the loop is not an available option we provide at this time. The loop will always be a standard black color.
Can I order a different width band?
Unfortunately the band size cannot be adjusted/made thicker, thinner or longer at this time.
Do your hardware colors match Apple Watch hardware colors?
The hardware options that we offer on our bands are intended to loosely match a wide range of colors but unfortunately won't always be an exact match to the different metallic color options found in the Apple watch lines, as each series tends to offer slightly different hues. To add, all of our watch band hardware is matte in finish. The gold option is a classic, yellow finish while rosegold has more pink tones to it.
Are your bands for men too?
Of course! All of our bands are completely unisex!
I have sensitive skin. Can I wear your bands?
We cannot/do not recommend that you wear our bands if your skin sensitivities are extreme and trust that you will ultimately make the best decision for your personal circumstances!
Can you add additional holes to the band?
Extra holes cannot be added to bands on our end. If you require additional holes, you can always take your band to your local leather/shoe repair store where adding additional holes will generally only cost you a few dollars! Inexpensive leather hole punchers can also be found on Amazon!
LET OUR CUSTOMERS DO THE TALKING
"I chose this design because I love monarch butterflies. It's very well made, with exquisite detail. I like the old-fashioned buckle closure too. Very comfortable as well as stylish."

- NANCY
"The prettiest pattern, I actually got the vintage rose one instead and love it so much!!! So dainty and vibrant and pretty. Not stiff at all and the right amount of thickness. So pleased and customer service is top notch!"

- ALLY
"This band is so beautiful! Allie was so nice and messaged me ahead of time letting me know that there may be delays with USPS, but I still received it in a timely manner. She also offers a lifetime warranty. Would definitely order again!"

- LAUREN